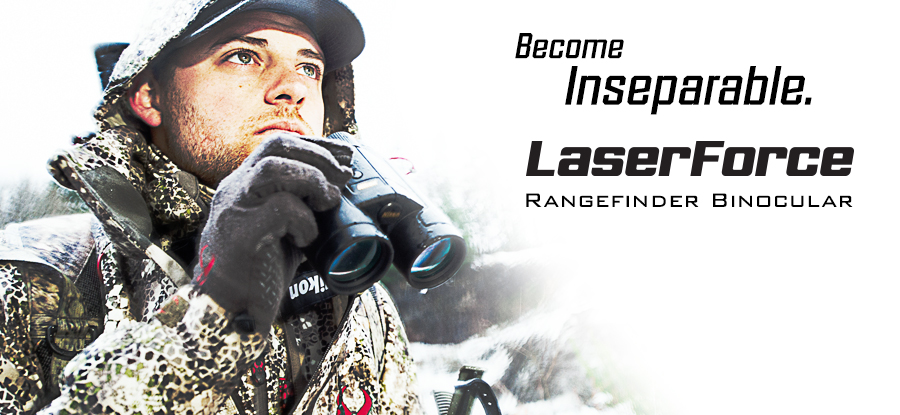 Combine Nikon binocular performance with the extreme speed and ranging technology of a 1900-yard laser rangefinder and you have LaserForce, Nikon's new 10x42 Rangefinder Binocular. Quite simply the single optic solution for serious hunters who depend on both their binocular for picking out distant animals and their rangefinder for getting the exact distance before taking the shot. Featuring ED (Extra-low Dispersion) glass and Nikon's ID Technology to compensate for incline or decline angles, LaserForce puts ranging precision, optical performance and rugged performance within your reach.
Rangefinder Binocular with 10-1900 Yard Range*
Very bright, clear display with 4-step intensity adjustment; easily readable under any lighting conditions and against various subjects, with single or continuous measurement up to 8 seconds. Displays in increments of 0.1m/yd, when shorter than 100m/yds and in 1m/yd at 100m/yds and over. Auto power shut-off function saves battery life by shutting down after 8 seconds of non-use. (*For reference. Under Nikon's Measurement conditions. The specifications of the product may not be achieved depending on the target object's shape, surface texture and nature, and/or weather conditions.)
ID (Incline/Decline) Technology
Nikon's advanced ID Technology provides the horizontal distance to the target, even when ranging at various incline or decline shooting angles—up to an incredible +/- 89 degrees (nearly vertical up or down).
Full Multilayer-coated Lenses and Prisms and ED Glass
Reflective mirror coating is applied on the mirror surface of the roof prism unit, providing bright images. Lead- and arsenic-free glass is used for all lenses and prisms. ED (Extra-low dispersion) Glass corrects chromatic aberration that causes colour fringing for high-resolution, contrast-rich images.
Long Eye Relief Design
Ensures a clear field of view, even for eyeglass wearers.
LCD, Video and Photo Gallery images are for illustrative purposes only.