One lens. So many possibilities.
Ready for your next excursion, the full frame NIKKOR Z 24-200mm f/4-6.3 VR is a versatile all-in-one zoom that covers every shot along the way with remarkable true to life detail. Immersive landscapes, arresting architecture, captivating portraits, candid street photography and everything in between—all with a single compact, lightweight lens. Beyond its incredible flexibility and convenience, the NIKKOR Z 24-200mm f/4-6.3 VR is designed to take full advantage of the Z mount's impressive light-gathering capability, so photos and videos are sharp, clear and evenly illuminated throughout the entire frame.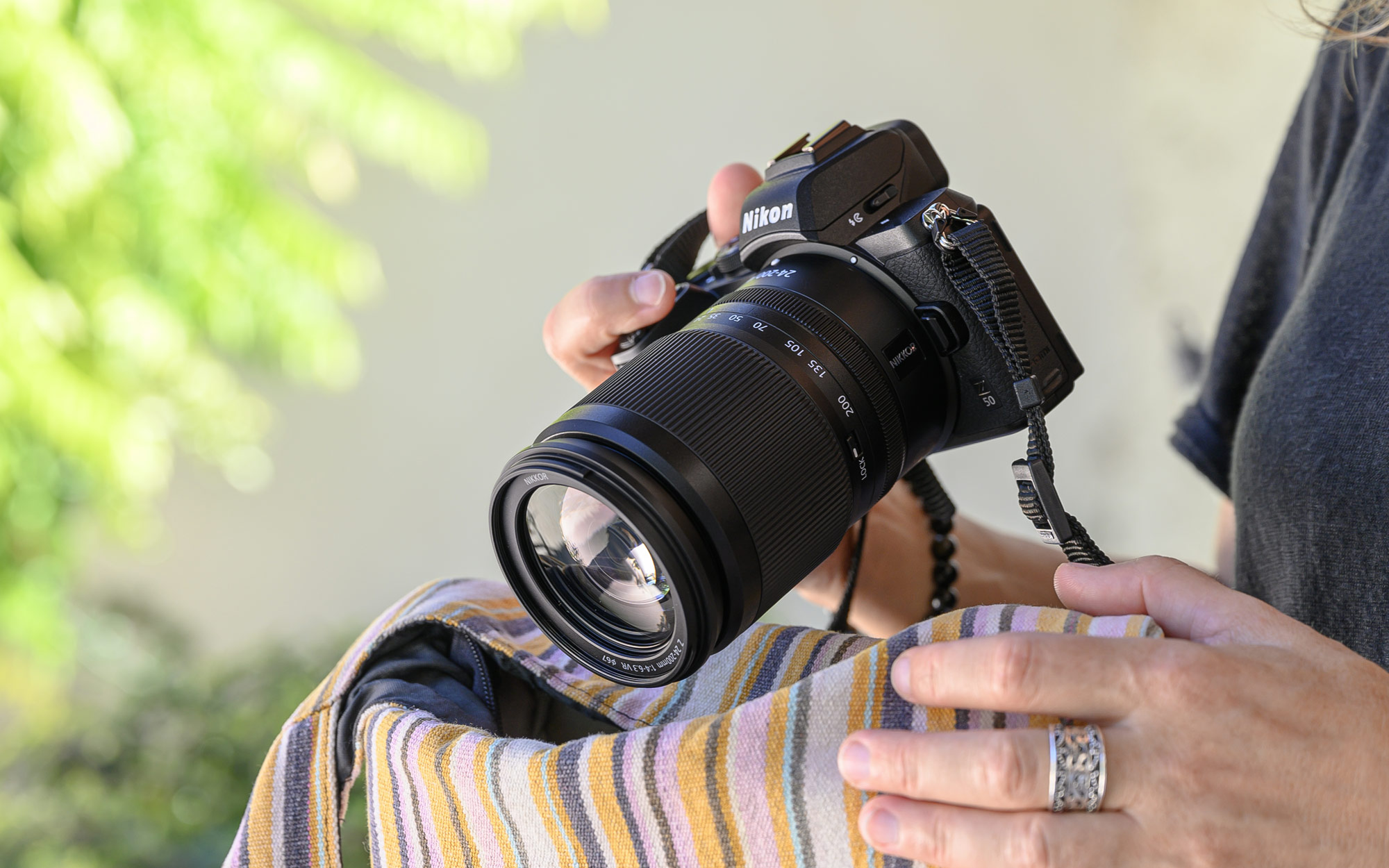 Travel light without missing a shot.
At just 570g, the compact NIKKOR Z 24-200mm f/4-6.3 VR is the perfect grab and go lens for all-day versatility and convenience. From stunning wide landscapes to close-ups of the animals that inhabit them, every shot is captured with staggering resolution, impressive clarity and minimal distortion.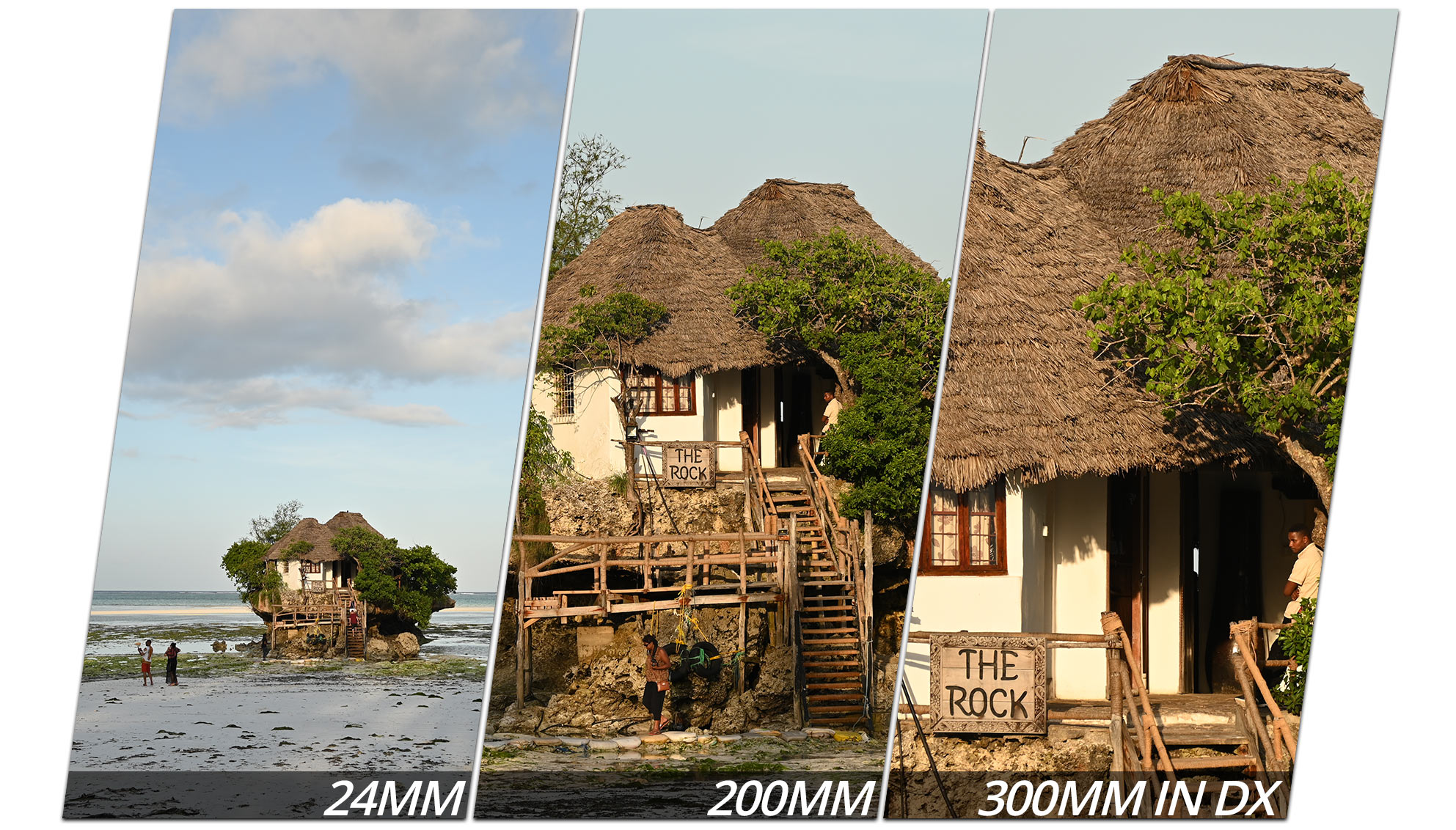 Even more reach with DX crop mode.
The already impressive 200mm reach of the NIKKOR Z 24-200mm f/4-6.3 VR can be effectively extended to an amazing 300mm when used on a DX camera like the Z 50 or by setting your FX camera to DX crop mode.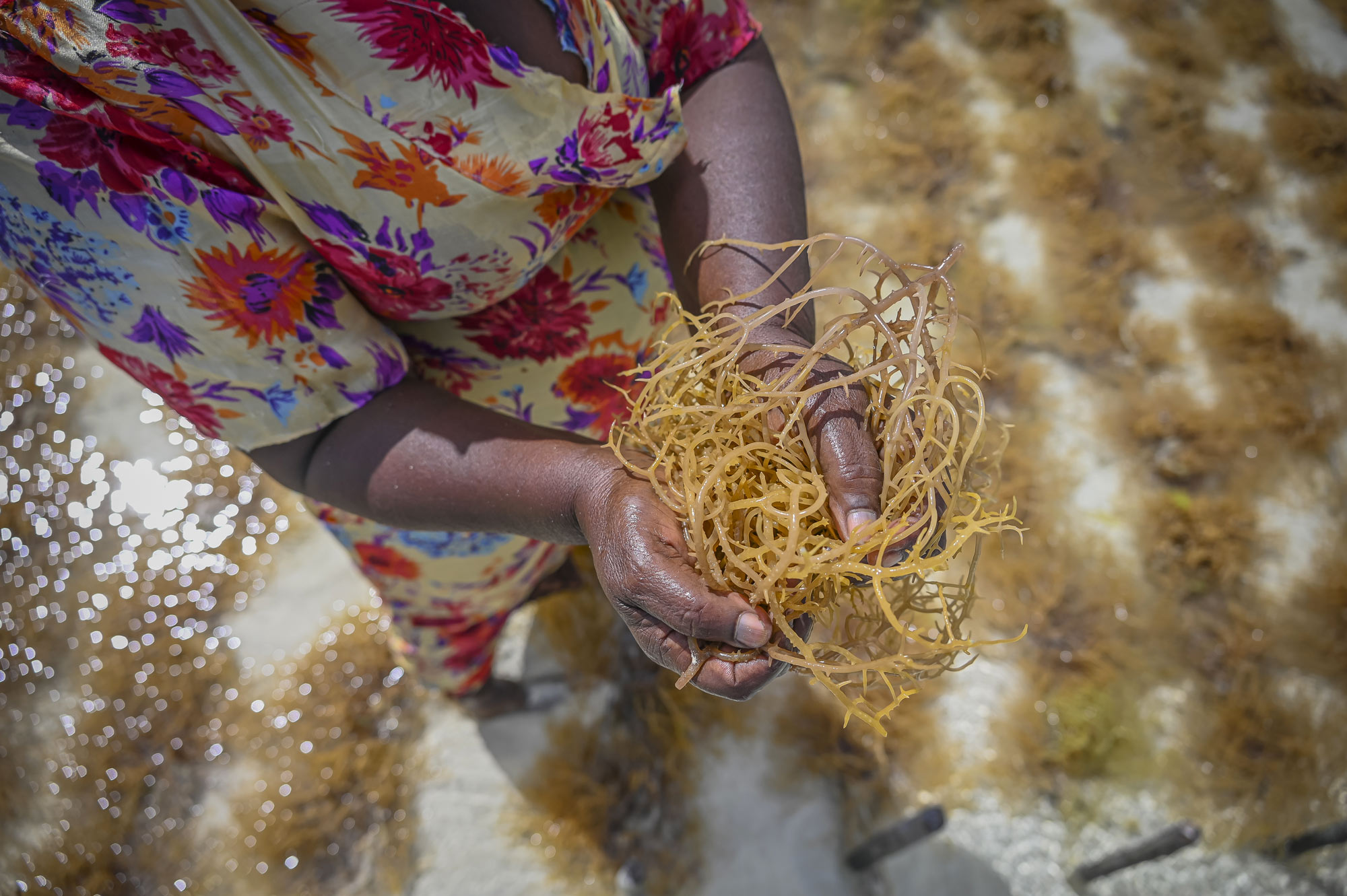 Smooth, fast and quiet autofocus.
Powered by an ultra-quiet stepping motor and enhanced by the additional light gathered by the Z Mount, focusing is fast, silent and accurate. Great for stills; even better for video.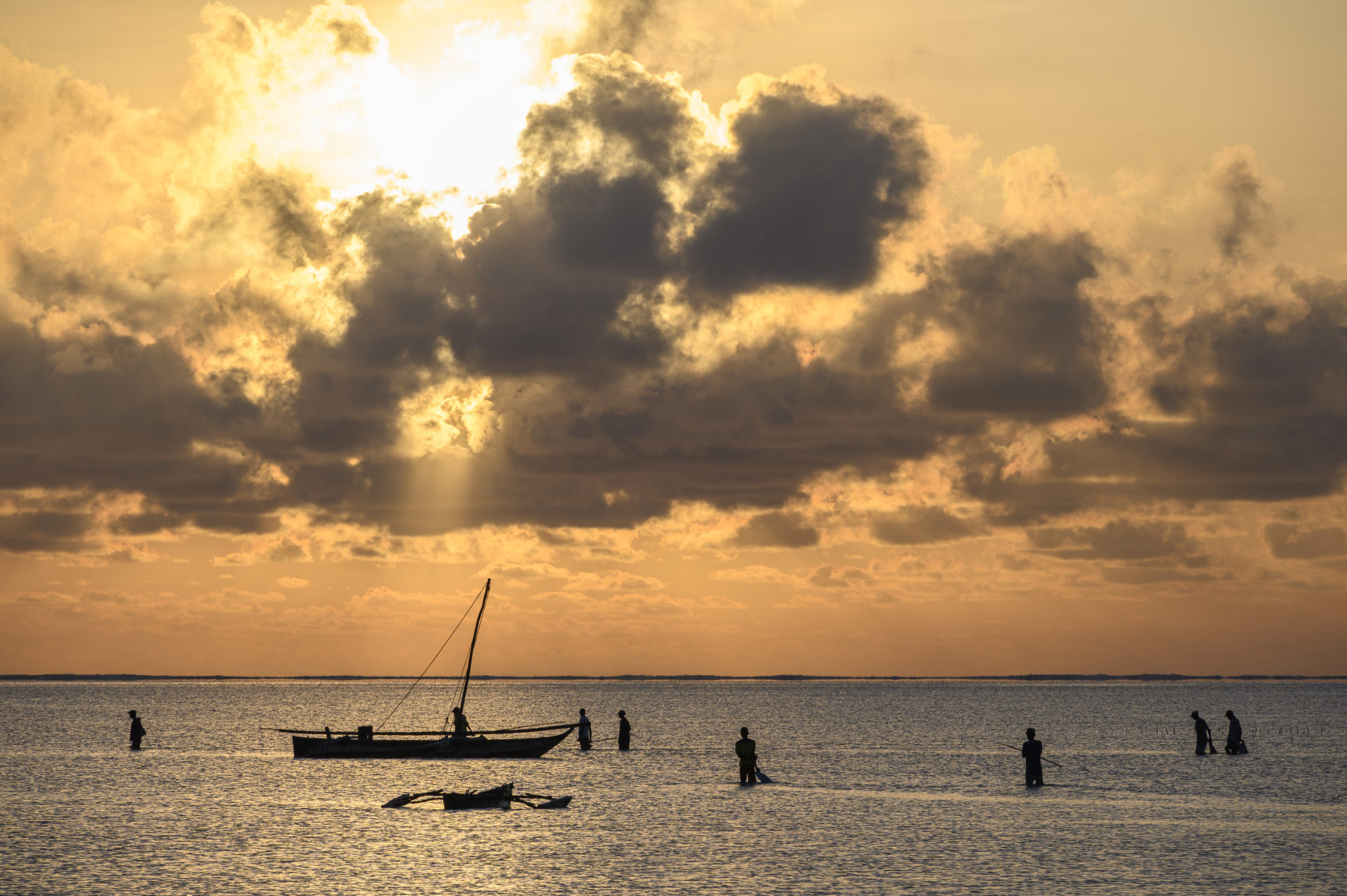 Rock steady VR.
With up to 5.0 stops* of built-in optical Vibration Reduction (VR), impeccably sharp handheld photos and videos are no problem, even in low light. Paired with the 5 Axis In-Body VR (IBIS) of Full Frame Z Series cameras, image stabilization is further enhanced, and with the DX format Z 50, the NIKKOR Z 24-200mm f/4-6.3 VR provides 2 Axis optical image stabilization.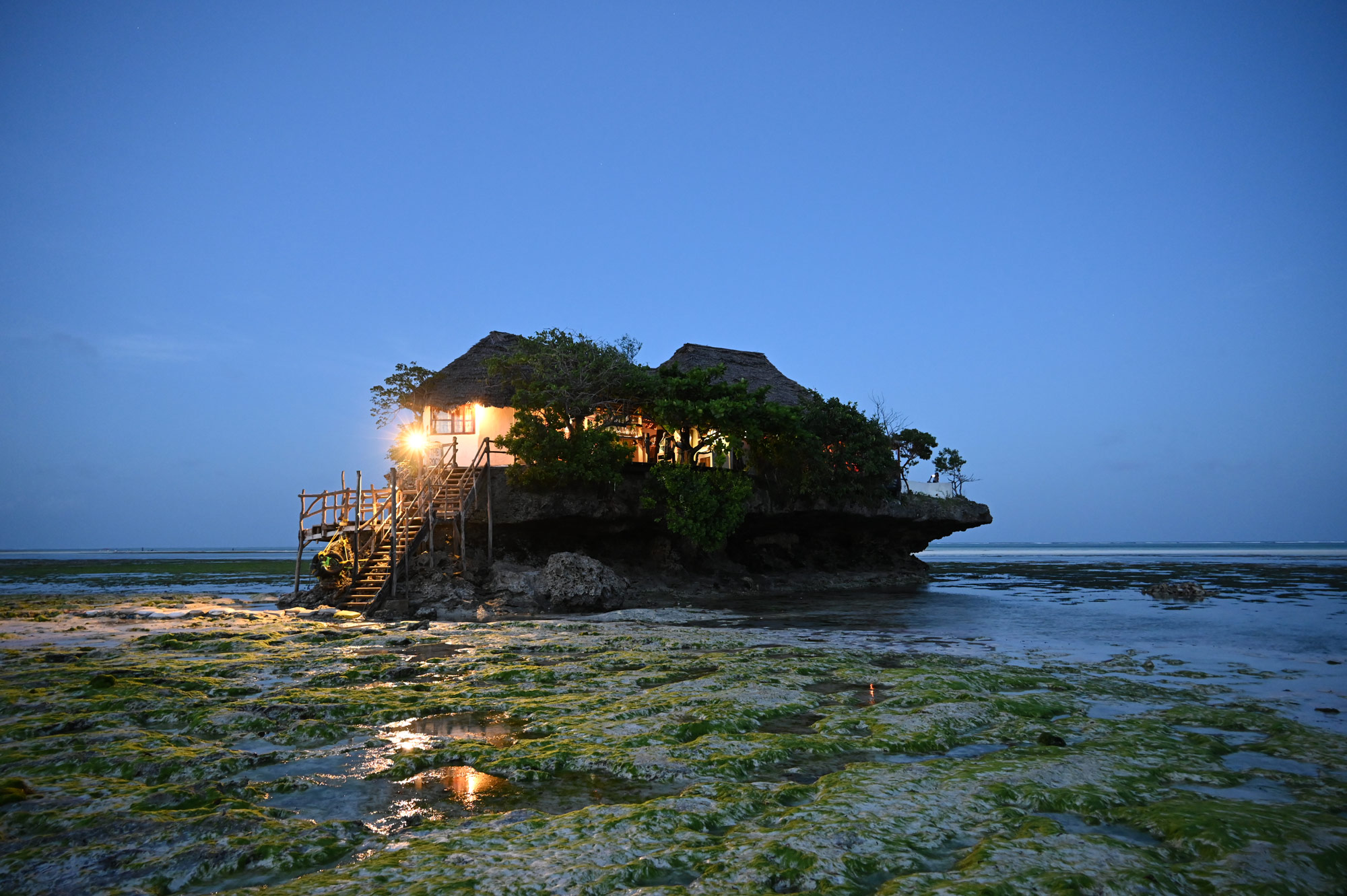 Beautifully reproduced night scenes.
Point light sources like stars or lights in a cityscape have a tendency to "smear" in dark scenes, requiring time-consuming post-processing to correct. The NIKKOR Z 24-200mm f/4-6.3 VR automatically combats this anomaly with faithful point light reproduction, accurately capturing fine details around small light sources throughout the entire frame.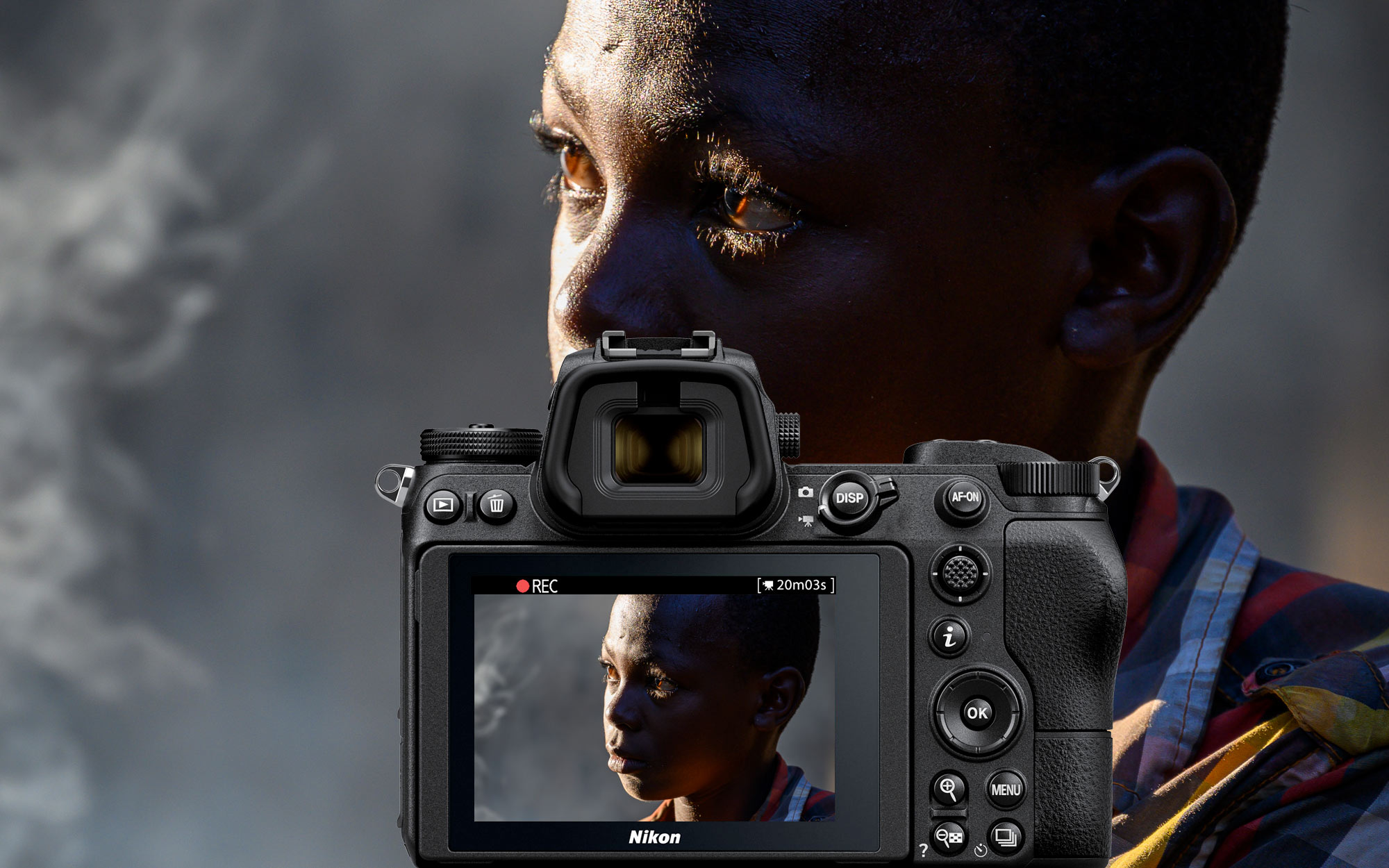 Video versatility.
With its vast zoom range, the NIKKOR Z 24-200mm f/4-6.3 VR is an extremely versatile lens for video enthusiasts. Autofocusing and subject tracking are smooth and silent with virtually no focus breathing. The customizable, clickless control ring offers quick and quiet access to your most used camera settings. Plus, it accepts 67mm filters such as neutral density filters for greater creative exposure control.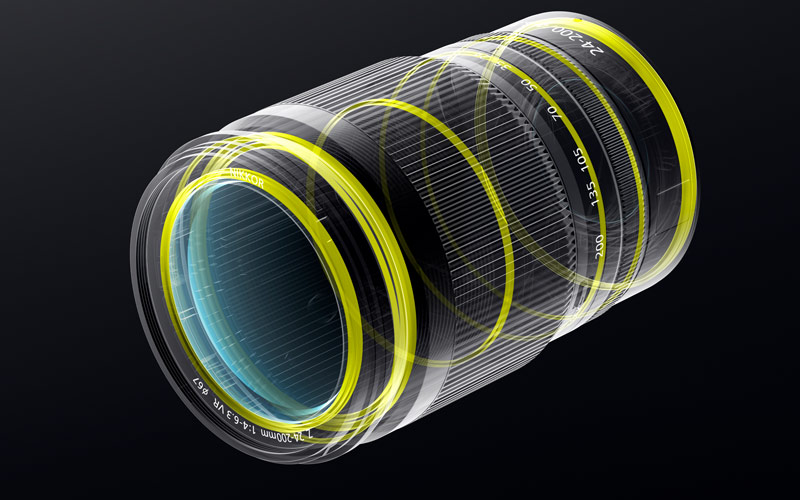 Dust and drip resistant.
Extensively sealed to keep dust and moisture out, especially around all moving parts of the lens barrel, for worry-free durability.

Customizable control ring.
The control ring can be used for quiet aperture control (great for iris transitions during video recording or situations where complete silence is critical), exposure compensation or ISO adjustments.

Technology
ARNEO Coat

An anti-reflective coating developed by Nikon and used in conjunction with Nano Crystal Coat to further reduce ghost and flare effects caused by incident light entering the lens vertically. This allows for the outstandingly clear capture of images even when a light source is located within the frame.

Fluorine Coat

Photographers need gear that can withstand the elements. Nikon's fluorine coat effectively repels dust, water droplets, grease or dirt, ensuring easy removal even when they adhere to the lens surface. Nikon's fluorine coat endures a high frequency of lens surface wiping and its anti-reflective effect also contributes to the capture of clear images.

Stepping Motor

NIKKOR Z lenses use a stepping motor for fast, accurate, smooth, quiet autofocus with reduced wobbling. This quiet drive system makes the lenses ideal for use when shooting video.

Electromagnetic Diaphragm Mechanism

An electromagnetic diaphragm mechanism in the lens barrel provides highly accurate electronic diaphragm or aperture blade control when using auto exposure during continuous shooting.

ED (Extra-Low Dispersion) Glass

An optical glass developed by Nikon that is used with normal optical glass in telephoto lenses to obtain optimum correction of chromatic aberrations.

Aspherical Lens

A lens with a curved, non-spherical surface. Used to reduce aberrations and enable a more compact lens size. Aspherical lenses minimize coma and other types of lens aberrations, even when used at the widest aperture. They are particularly useful in correcting distortion in wide-angle lenses and help contribute to a lighter, more compact design by reducing the number of standard (spherical) elements necessary. Aspherical lens elements correct these distortions by continuously changing the refractive index from the centre of the lens.

IF Lens

A NIKKOR lens in which only the internal lens group shifts during focusing. Thus, IF NIKKORS do not change in size during AF operation, allowing for compact, lightweight lenses capable of closer focusing distances. These lenses will be designated with the abbreviation IF on the lens barrel.

Super Integrated Coating

Nikon Super Integrated Coating is Nikon's term for its multilayer coating of the optical elements in NIKKOR lenses.

Vibration Reduction

A Nikon in-lens technology that improves image stability by automatically compensating for camera shake. Lenses that offer VR will feature the abbreviation VR on the lens barrel.
*Based on CIPA Standard: this value is achieved when attached to a FX-format camera with the camera's VR function set to "NORMAL", and when zoom is set to the maximum telephoto position.
LCD, Video and Photo Gallery images are for illustrative purposes only.