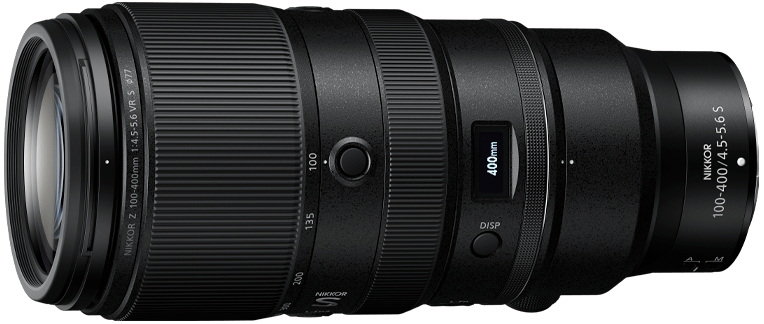 Long reach. Smart handling. Thrilling image quality.
The NIKKOR Z 100-400mm f/4.5-5.6 VR S brings a super telephoto zoom range that's ideal for wildlife, sports and action together with premium S-Line optics, breathtaking image quality, effortless autofocus, rock-steady VR and comfortable handling—all in a travel-friendly package that brings so many shots within reach.
S-Line

Premium Optics

1355g

Lightweight

VR

Image Stabilization (5.5 stops)

2.46 ft.

Close Focusing

FX & DX

Great on any Z series camera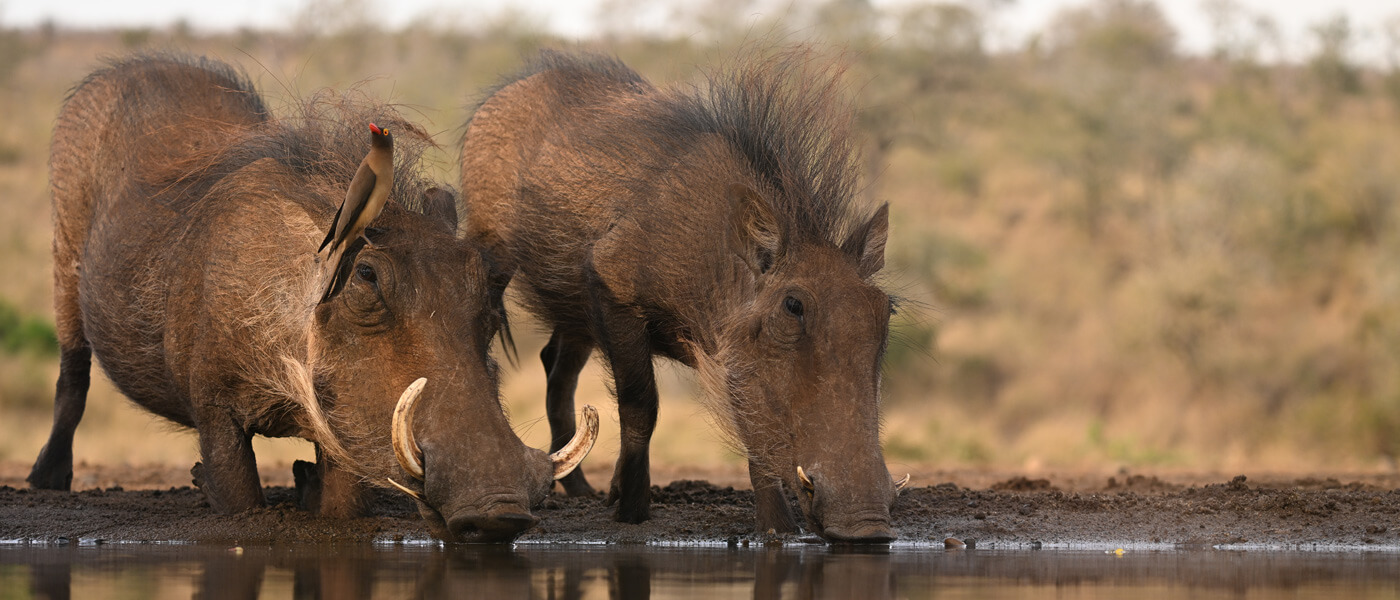 2 Super ED glass elements and 6 ED glass elements significantly reduce axial chromatic aberration. Nano Crystal Coat and Nikon's advanced ARNEO coat cut through glare and lens flare. Color bleeding and focus breathing are virtually nonexistent.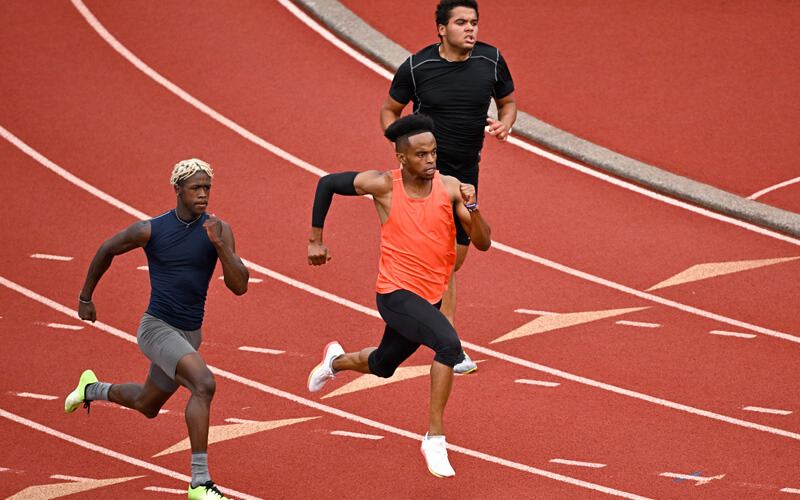 Optical VR keeps you steady.
When used with a Z camera that has Synchro VR, like the Z 9, the NIKKOR Z 100-400mm f/4.5-5.6 VR S's powerful optical VR system works together with the camera's in-body VR for up to 5.5 stops* of compensation. On full-frame Z cameras like Z 5, Z 6, Z 6II, Z 7 or Z 7II, it achieves up to 5.5 stops* of compensation. And on DX-format cameras like Z 50 or Z fc, it stabilizes with 2-axis optical VR.
*Based on CIPA Standard; in NORMAL mode; this value is achieved when attached to a mirrorless camera equipped with a 35mm film size image sensor, and when zoom is set to the maximum telephoto position.
Inner Balance Technology keeps you centered.
As you zoom in and fully extend the NIKKOR Z 100-400mm f/4.5-5.6 VR S, weight-dispersing Inner Balance Technology maintains a constant center of gravity (within just 3.8mm). The effect is almost baffling—the lens gets longer, yet there's no perceptible change in its balance. That means easier handheld shooting and no nose dives on gimbals and tripods.
Macro-style close focusing.
Traditional super telephotos can overpower close shooting situations. Not the NIKKOR Z 100-400mm f/4.5-5.6 VR S. Even when you're right in front of your subject—as close as 2.46 feet away at 100mm or 3.22 feet away at 400mm—you can fill the frame with macro-style details.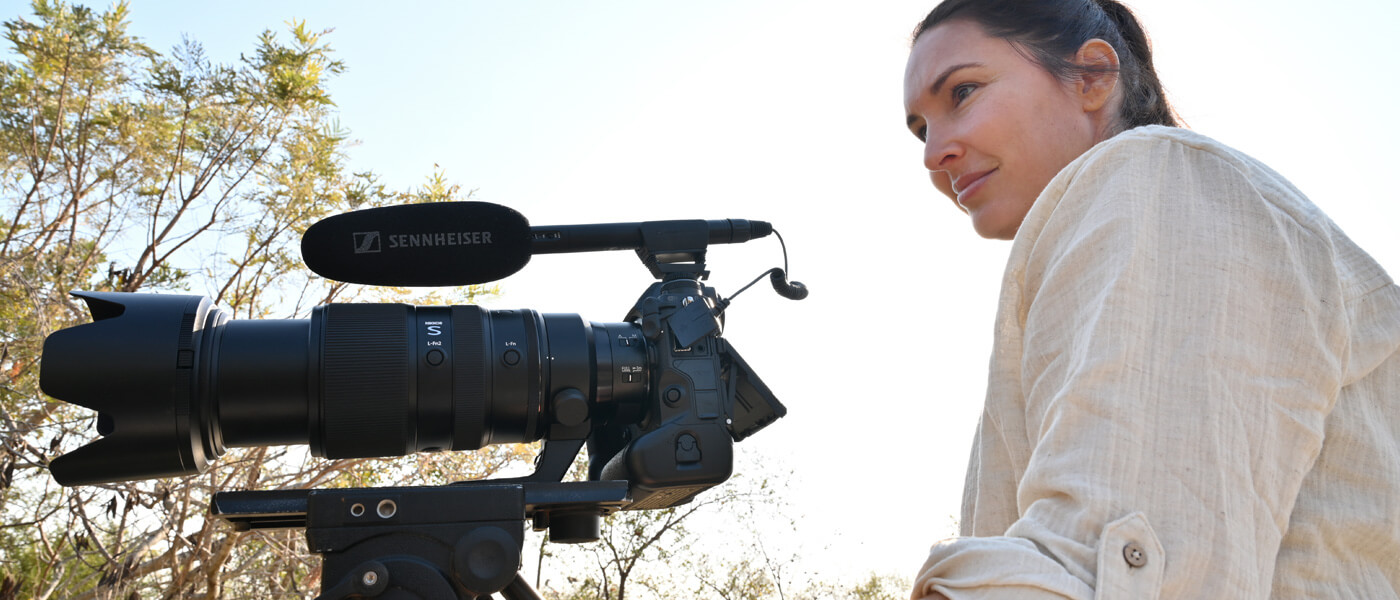 Outstanding for video.
With ultra-quiet focusing, suppressed focus breathing, smooth aperture adjustments, a constant center of gravity and S-Line image quality, the NIKKOR Z 100-400mm f/4.5-5.6 VR S lets you bring super telephoto views with beautifully compressed backgrounds to your videos.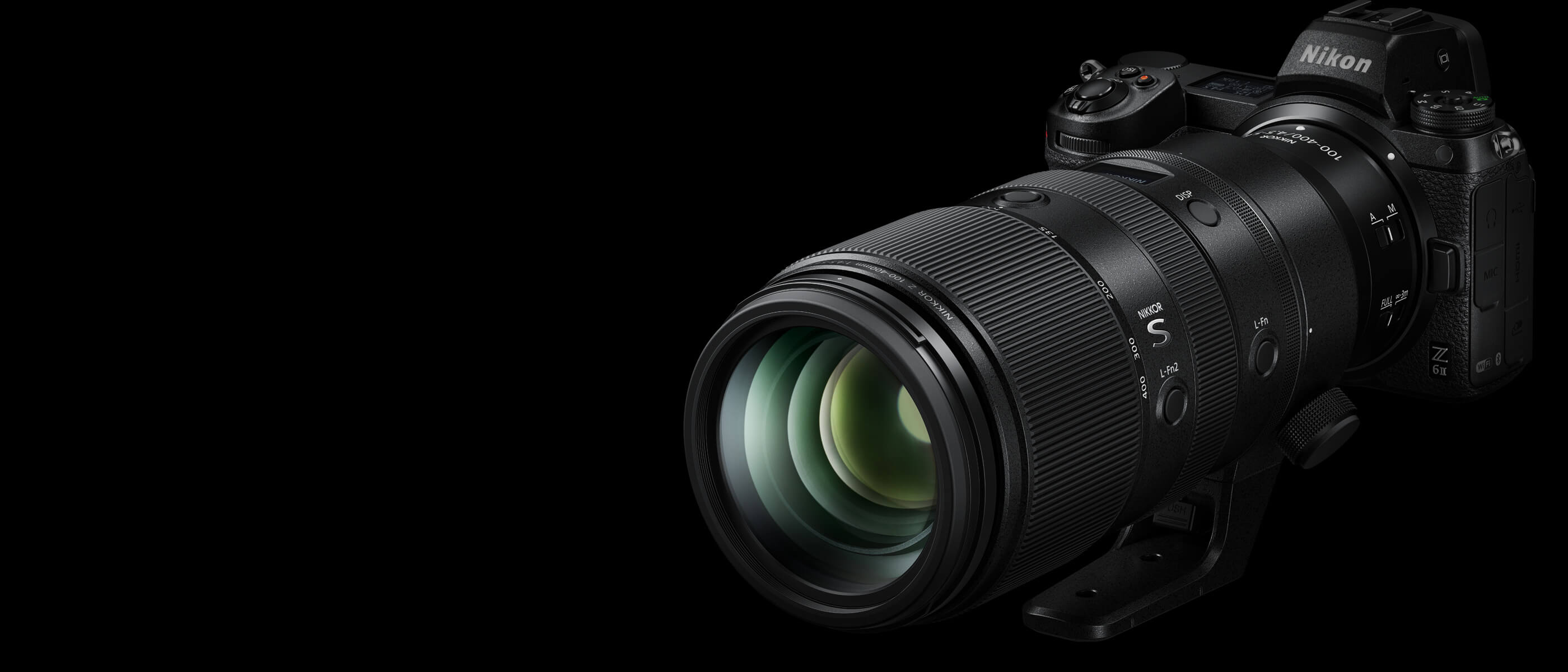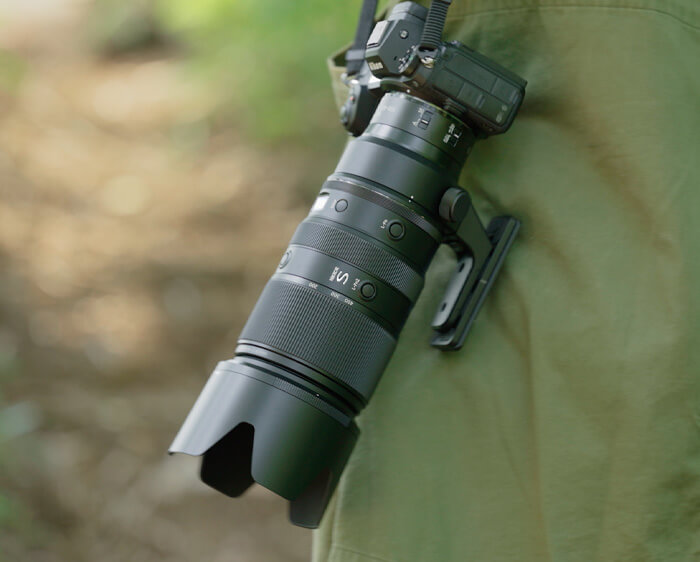 Won't creep.
An innovative design enhancement eliminates lens creep—without torque or tension adjustments. Whether the lens is pointed straight up or straight down, the barrel will stay in the same zoom position.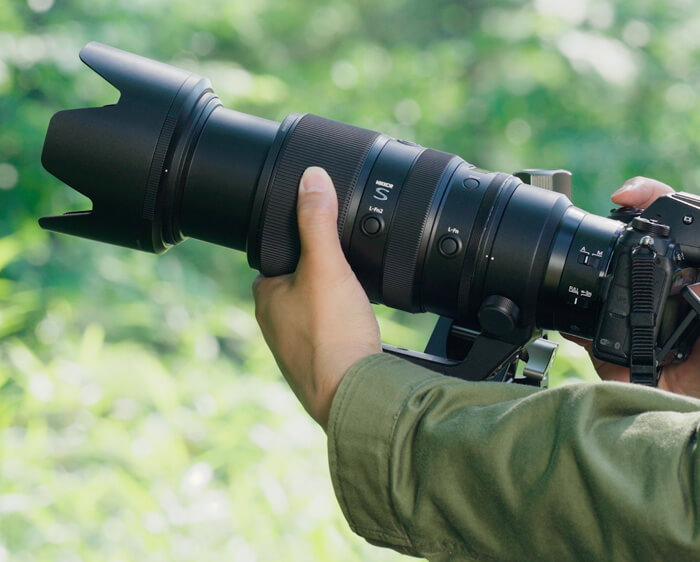 Quick zoom ring.
Cover the entire zoom range—from 100mm to fully extended 400mm—with less than a quarter turn of the smooth zoom ring and no perceptible change in balance. This is comfortable, intuitive handling at its best.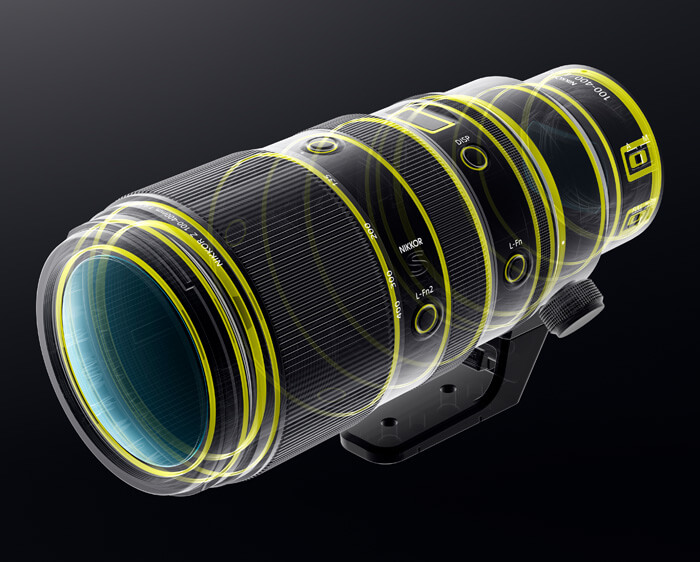 Loves the great outdoors.
All moving parts of the lens barrel are carefully weather sealed, and the lens mount has a rubber gasket. Nikon's proprietary Fluorine coat is applied to the front-most element, which repels dust, oil and water droplets and easily wipes clean.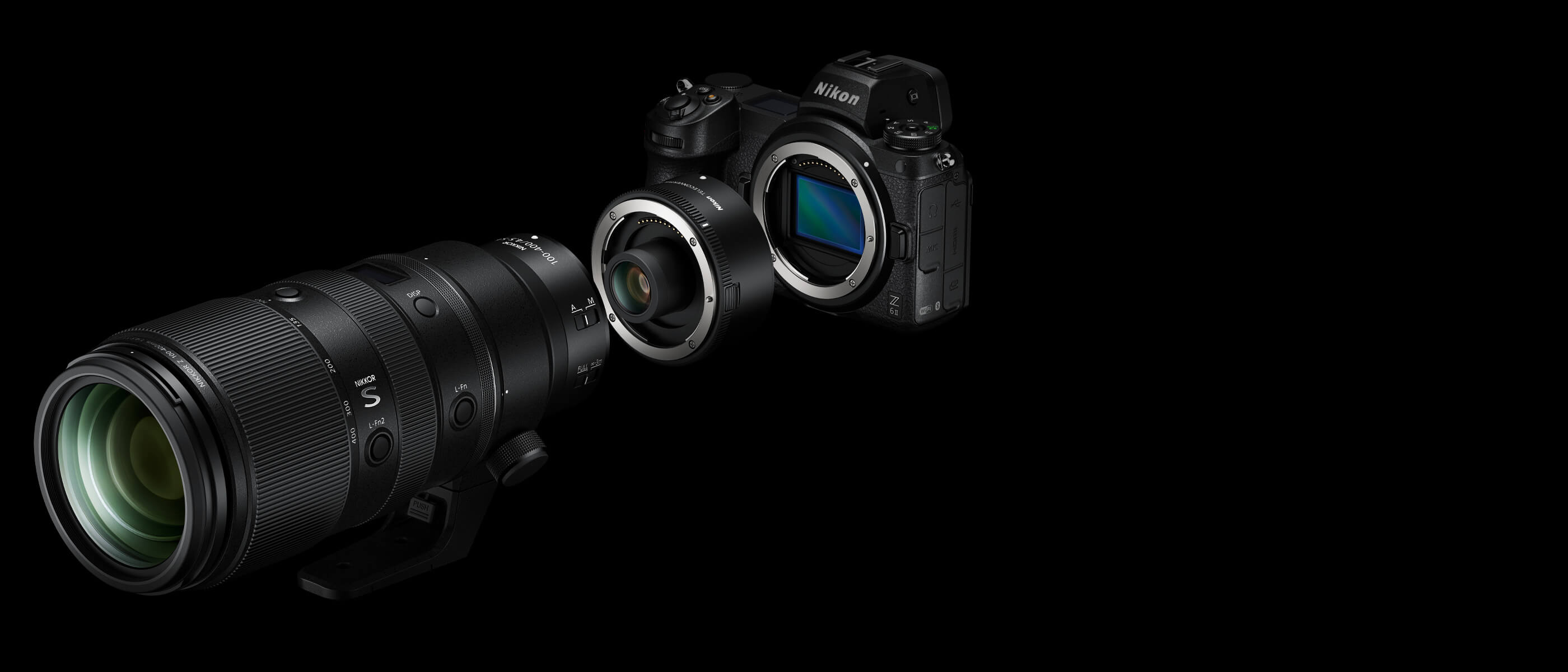 Technology
Vibration Reduction

A Nikon in-lens technology that improves image stability by automatically compensating for camera shake. Lenses that offer VR will feature the abbreviation VR on the lens barrel.

ED (Extra-Low Dispersion) Glass

An optical glass developed by Nikon that is used with normal optical glass in telephoto lenses to obtain optimum correction of chromatic aberrations.

Super ED Glass

Nikon has also developed Super ED glass featuring even lower dispersion properties and extremely high performance in reducing the secondary spectrum, to minimize chromatic aberration even further, as well as other lens aberrations.

ARNEO Coat

An anti-reflective coating developed by Nikon and used in conjunction with Nano Crystal Coat to further reduce ghost and flare effects caused by incident light entering the lens vertically. This allows for the outstandingly clear capture of images even when a light source is located within the frame.

Fluorine Coat

Photographers need gear that can withstand the elements. Nikon's fluorine coat effectively repels dust, water droplets, grease or dirt, ensuring easy removal even when they adhere to the lens surface. Nikon's fluorine coat endures a high frequency of lens surface wiping and its anti-reflective effect also contributes to the capture of clear images.

Nano Crystal Coat

An anti-reflective coating developed by Nikon that virtually eliminates internal lens element reflections across a wide range of wavelengths. Nano Crystal Coat solves ghost effects caused by red light and effectively reduces ghost and flare caused by light entering the lens diagonally.

Stepping Motor

NIKKOR Z lenses use a stepping motor for fast, accurate, smooth, quiet autofocus with reduced wobbling. This quiet drive system makes the lenses ideal for use when shooting video.

IF Lens

A NIKKOR lens in which only the internal lens group shifts during focusing. Thus, IF NIKKORS do not change in size during AF operation, allowing for compact, lightweight lenses capable of closer focusing distances. These lenses will be designated with the abbreviation IF on the lens barrel.
LCD, Video and Photo Gallery images are for illustrative purposes only.