The Atacama Desert is a desert plateau covering about 600 miles of the northern coast of Chile. It's one of the driest places in the world, but at its higher elevations there are lakes, ponds and salt flats. It's a varied landscape that offers both photo opportunities and challenges, and it's where landscape photographer Taylor Gray took the photos you see here with the NIKKOR Z 20mm f/1.8 S, Nikon's widest prime lens for Z system cameras to date.
Seeing is Believing
You can tell from Taylor's photographs that he's not a photographer who heads back to the hotel, the camper or the campsite when the sun goes down. When we talked with him, he got to the dark side right away by calling our attention to the starry night sky above the wide open spaces in an image that shows the clarity and detail a wide-angle lens can capture—especially a fast, wide-angle prime designed, as all Z lenses are, for nothing short of astounding edge-to-edge sharpness.
What draws him to low-light and night-light scenes? Drama, contrasts and deep shadows are a start, but there's more to it.
"Those situations are opportunities to share images of what can't be seen with the naked eye," Taylor says. "I'm doing long exposures, 15 or 20 seconds, and those exposures draw in all this information, all this light into the camera for a single image that you couldn't see with your eyes. The idea is seeing things that are happening over time, things you wouldn't be able to see any other way."
And the wider the view and the sharper the lens, the more you'll see what you can't normally see. "The 20mm Z lens was the one I was most looking forward to," he adds. "I expected, and I got, an extra level of detail and clarity with the 20mm prime."
The Edge Test
Taylor's on-location checking of the edge-to-edge sharpness of the lens involved taking...well, simply a close look. "A good way to be sure is to shoot wide open at f/1.8, then zoom in on the LCD to the corners," Taylor says. "You want to find a scene that has strong texture in the foreground that the lens can do justice to. That's the starting point for checking the sharpness of detail at the edge, too. What I saw in the tests was a minimal, hardly noticeable difference in sharpness between the corners and the center of the image. And I'd do an edge blow-up from time to time to check the light, the contrast and the details, and the edges were consistently sharp."
With this lens there's a level of contrast and clarity that I hadn't seen before.
Taylor also mentioned the 20mm's great point light quality—meaning no halo, no flare around bright points of light. It's an important plus for him, as he occasionally likes to feature a sunburst effect. "Sometimes I'd get a lens flare with that," he says, "but with this lens there's a level of contrast and clarity that I hadn't seen before. Nothing got in the way of the effect, and that was impressive."
The Moving Image
Lately Taylor's work is about evenly divided between stills and video, and the 20mm lens is going to be an important part of his video production.
"I think when you shoot video, prime lenses are the way to go," he says. "This is going to be a great wide-angle prime for my videos."
All in all, it's a sure bet that the 20mm f/1.8's sharpness and light-gathering speed is going to make it a constant companion for Taylor's travels in search of varied and dramatic day and night landscapes.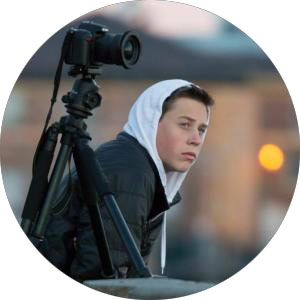 Taylor Gray discovered his talent for photography at age 14 during a two week backpacking trip in the Colorado Rockies. From there, he taught himself photography and started exploring the San Francisco area and beyond. In a few short years, Taylor has had the opportunity to travel to several states and to Europe, beautifully documenting the wide and varied landscapes in each place. After building quite a following on social media, Taylor is frequently asked to sell his prints and license his photos for websites. He is a passionate photographer with the goal of making a career out of it. You can see more of Taylor's work on his website www.taylorgrayvisuals.com.
More articles by this contributor
This Article Goes Great With These Products