COOLPIX L25
Technical Service Advisory for Users of the Nikon COOLPIX L25 Digital Camera.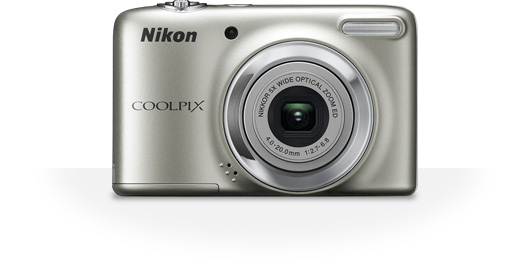 Thank you for choosing Nikon for your photography needs.

Nikon has received reports of overheating that has occurred in COOLPIX L25 digital cameras when (i) the L25 camera is subjected to a physical collision with a hard surface, such as from being dropped, and (ii) as a result of the impact of the collision, the front and rear covers of the L25 camera have separated, resulting in a short circuit that generates sufficient heat to deform a small area on the top of the L25 camera. As a result Nikon is issuing this Technical Service Advisory ("TSA") to request that COOLPIX L25 cameras be returned to Nikon for free servicing.

Specifically, when the L25 camera strikes a hard surface and the physical impact of the collision causes the front cover to separate from the rear cover along the top of the L25 camera resulting in a gap at the top of the L25 camera, the zoom plate inside the L25 camera directly below the zoom control that is positioned on the top of the camera may move, causing the zoom plate to contact the plate connected to the battery plus terminal, making it possible for a short circuit to occur which may then deform a small area on the top of the L25 camera body. This may occur regardless of whether the L25 camera is turned on or off. There have been no reports of any injuries to persons or damage to personal property, and Nikon does not believe that there is any risk of fire.

The location where the separation between the front and rear covers at the top of the COOLPIX L25 camera may occur is shown directly below.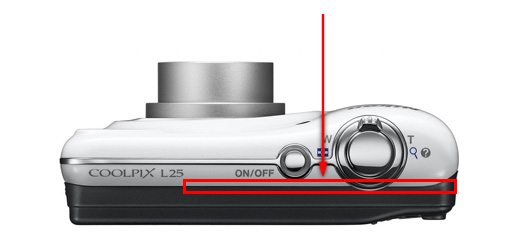 If your COOLPIX L25 camera sustains a strong impact, remove the batteries immediately. Use caution in removing the batteries, as they may be hot to the touch.

COOLPIX L25 cameras with a white circle on the tripod socket, like that shown below have already been inspected and the necessary service made to prevent this issue from occurring. Therefore, if your L25 camera has the white circle, you may continue to use the camera safely.

Free inspection / modification service:

In order to ensure users' peace of mind, we will be offering a free inspection and modification service to prevent the possibility of this problem from occurring. Please contact Nikon Canada Customer Support at 1-877-534-9910 or via e-mail: serviceadvisory@nikon.ca for your free shipping label and additional instructions.

We sincerely apologize for any inconvenience this issue may have caused.

Nikon remains committed to providing only the highest quality cameras and components, and we hope that you will continue to choose Nikon for your photography needs.