Recall
EN-EL3 Battery Recall
Revised Website Notice
*June 3, 2014*
As announced on November 8, 2005, we implemented a voluntary recall and replacement program for applicable EN-EL3 rechargeable batteries. However, we have not yet collected all of the applicable batteries.

Therefore, we ask that you read the following announcement, and check your EN-EL3 to see if it is one of those affected by the issue indicated. If it is, please use the online EN-EL3 Replacement Request or call the dedicated support line to request a replacement battery.
---
On November 8, 2005, we announced a voluntary recall and replacement program for certain Rechargeable Li-ion Batteries EN-EL3. However, further inspection has revealed additional EN-EL3 batteries are affected. Nikon regrets any inconvenience this may have caused. We take this opportunity to add the additional lot numbers to the list of recalled EN-EL3 batteries. The lot numbers added at this time apply only to EN-EL3 batteries supplied with Nikon D50 digital-SLR cameras.
It has come to our attention that some Rechargeable Li-ion Batteries EN-EL3 for Nikon digital-SLR cameras may, on rare occasions, overheat causing the battery to become deformed or, in the worse case, to catch fire. There have only been four confirmed reports of incidents of the problem worldwide, and while no injuries have taken place, Nikon Canada Inc. has initiated this recall of the affected lot numbers as a reflection of its commitment to safety and product quality. We are asking that owners of the affected battery packs return them to Nikon Canada Inc. for a free replacement.
The Nikon EN-EL3 battery pack is provided as a supplied accessory with the purchase of Nikon's digital SLR D100, D70, and D50 cameras. It is also sold separately at retail under Nikon's model name "EN-EL3". The EN-EL3 battery pack involved in this recall was first distributed by Nikon in May 2004 and may still be available at retail.
This voluntary recall is limited ONLY to those units of the Model EN-EL3 bearing the following lot numbers:
| First 3 digits | Recall Lot Numbers |
| --- | --- |
| 44A- | 44AC |
| 46A- | 46AC, 46AD, 46AE, 46AF, 46AG, 46AH, 46AI, 46AJ, 46AK, 46AL, 46AM, 46AN, 46AO, 46AP, 46AQ, 46AT, 46AU, 46AV, 46AW, 46AX, 46AY |
| 47A- | 47AA, 47AB, 47AC, 47AD, 47AE, 47AF, 47AG, 47AH, 47AI, 47AJ, 47AK, 47AL, 47AM, 47AN, 47AO, 47AP, 47AQ, 47AR, 47AS, 47AU, 47AV, 47AW, 47AX, 47AY |
| 48A- | 48AA, 48AB, 48AC, 48AD, 48AE, 48AF, 48AG, 48AH, 48AI, 48AJ, 48AK, 48AL |
| 49A- | 49AA, 49AB, 49AC, 49AD, 49AE, 49AF, 49AG, 49AH, 49AI, 49AJ, 49AK, 49AL, 49AM, 49AN,49AP, 49AQ, 49AR, 49AS, 49AT, 49AU |
| 4AA- | 4AAA, 4AAB, 4AAC, 4AAD, 4AAE, 4AAF, 4AAG, 4AAH, 4AAI, 4AAJ, 4AAK, 4AAL, 4AAM |
| 4BA- | 4BAA, 4BAB, 4BAC, 4BAD, 4BAE, 4BAF, 4BAG, 4BAH, 4BAI, 4BAJ, 4BAK, 4BAL, 4BAN |
| 4CA- | 4CAA, 4CAB, 4CAC, 4CAD, 4CAE, 4CAF, 4CAH, 4CAI, 4CAJ |
| First 3 digits | Additional Recall Lot Numbers |
| --- | --- |
| 51A- | 51AA, 51AB, 51AC, 51AD, 51AE, 51AF, 51AG, 51AH |
| 53A- | 53AA, 53AB |
| 54A- | 54AE, 54AF, 54AH |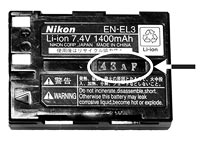 To determine whether a battery pack is among those being recalled, first confirm that "EN-EL3" is written on the side of the battery, as shown on the following photo. Then compare the lot number that appears printed in black ink in the recessed area on the side of the battery pack, as shown below, with the list of recalled lot numbers printed above (tilt the battery pack so that light shines directly on the recessed area to see the lot number). If you have an EN-EL3 battery pack with one of the lot numbers listed above, you should immediately stop using it and remove the battery pack from the battery compartment.
For information on returning your EN-EL3 battery pack for free replacement, please follow the instructions included in the PDF found below.
EN-EL3 Recall Product Return Form
Your EN-EL3 battery pack will be replaced, free of charge, within approximately 7-10 days of our receipt with a new EN-EL3a or EN-EL3e battery pack. The EN-EL3a and the EN-EL3e may be freely substituted for the EN-EL3 in all cases. For additional information about this recall, please email bprecall@nikon.ca or call Nikon Service toll-free at 1-877-534-9910. Due to the nature of this recall, please ensure your battery is shipped via ground shipment.
DO NOT return recalled lithium batteries to Nikon via airmail
If the lot number of your EN-EL3 battery pack is not listed above, or if your battery pack is an EN-EL3a or an EN-EL3e, your battery pack is not subject to this recall. No other Models of Nikon battery packs are involved in the recall. Nikon's digital SLR D100, D70 and D50 cameras are also not subject to the recall.
Nikon is committed to safety and to providing to its customers only the highest quality products. We regret any inconvenience this matter may cause you and appreciate your continued support of Nikon.