Service Advisory
COOLPIX L16 Service Advisory
October 1, 2008
Technical Service Advisory for Users of the Nikon COOLPIX L16 and L18 Digital Camera.
Thank you for choosing Nikon for your photography needs.
Nikon has received reports of overheating that has occurred in certain COOLPIX L16 and L18 Nikon digital cameras when the batteries have been inserted incorrectly into the camera. As a result Nikon is issuing this Technical Service Advisory ("TSA")to remind owners as to the proper use of these cameras and to request that affected cameras be returned to Nikon for free servicing.
Nikon has become aware that for a limited period of time, a battery housing was not manufactured in accordance with Nikon specifications. When batteries are inserted into an affected camera with the positive and negative terminals reversed, and physical shock or impact is applied to the camera, a currentmay flow backwards in the affected camera causing the unit to overheat, and potentially damaging certain electronic components inside the camera. This can occur even when the power switch is in the off position. Instances have been reported in which the camera's top cover has deformed. There have been no reports of any injuries to persons, and Nikon does not believe that the problem presents any risk of fire.
This issue does not occur if the batteries are inserted with the positive and negative terminals in the correct orientation, and owners are reminded to insert batteriesin the proper manner in accordance with the instructions contained in the camera's manual as well as the markings on the camera itself. To determine whether your COOLPIX L16 or L18 camera may be one of those affected, please see the range listed below. The serial number for your COOLPIX L16 or L18 is an eight (8) digit number located on the bottom of the camera. Please see below for an illustration of where the serial number is located.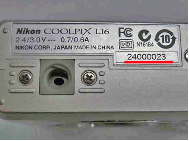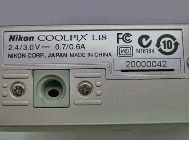 If your COOLPIX L16 or L18 camera is one of those that is affected, please remove the batteries from your camera, and send the camera to the Nikon Service Centre following the instructions in the PDF below, or phone the Nikon Service Centre at 1-877-534-9910, Monday to Friday 8:45a.m. to 4:45 p.m. Eastern Standard Time. Nikon Canada will promptly inspect and have your COOLPIX L16 or L18 serviced free of charge so that your camera will not experience this problem in the event the batteries are inserted incorrectly.
Serial Number range of L18 products that are affected:


Black

51000201-51013822


Blue

52000201-52010168


Red

53000201-53009490
Serial Number range of L16 products that are affected:


Silver

54000201-54014219
Coolpix L16 or L18 Service Advisory Product Return Form
We sincerely apologize for any inconvenience this issue may have caused.
Nikon remains committed to providing only the highest quality cameras and components, and we hope that you will continue to choose Nikon for your photography needs.